Portarlington Tennis Club HAWKeye LED lighting vs Metal Halide lighting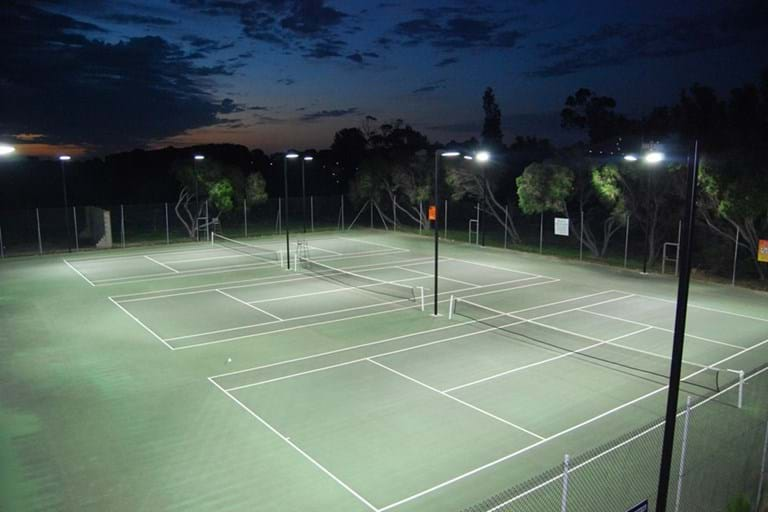 Located on the Bellarine Peninsula, Portarlington Tennis Club had a requirement for lighting their existing courts and keeping the operating costs to a minimum. Surfcoast Shire were considering a 1000w Metal Halide lighting system until we put forward our proposal for the HAWKeye 500W LED lighting system. In comparison, we were able to provide almost double the lighting levels and reduce the operating costs by 50%. By electing to install our system, the club had peace of mind in knowing that there were no ongoing consumable maintenance costs unlike the Metal Halide system.

Portarlington with 1000W Metal Halide Lamps
3 x Tennis Courts
Total of 18 x 1000w Metal Halide Lamps, consuming 18 kW/h Operating approx. 50 weeks a year, 5 days a week, 4 hours a day. Electricity rate of $0.30 per kW/h Paying $21.60 per day, $108 per week and $5,400 per year.
$350 per Metal Halide globe change. (Includes new globe, equipment hire for working at heights and labour)

$3,150 per year. (The lamps are expected to fall below required Lux levels approximately every 2 years.) Total maintenance cost every 2 years $6,300 Total Maintenance cost over 10 years $31,500
Versus
Portarlington with HAWKeye 500W LED Luminaires
3x Tennis Courts Total of 18 x 500w LED consuming 9 kW/h Operating approx. 50 weeks a year, 5 days a week, 4 hrs a day Electricity rate of $0.30 per kW/h Paying $10.80 per day, $54 per week, $2,700 per year Maintenance costs $0 over 10 years
Metal Halide 100W HAWKeye 500W LED

Cost per Unit $950 $1575
Total Purchase Cost $17,100 $28,350
Electricity Consumption 18 kW/h 9 kW/h
Over 10 Years $54,000 $27,000
Maintenance $31,500 $0
Over 10 Years $102,600 $55,350
Savings over 10 Years $47,250
Savings per Year $4,725
Savings per Month $393.75
Tally Ho Tennis Club - Change over to the HAWKeye LED lighting system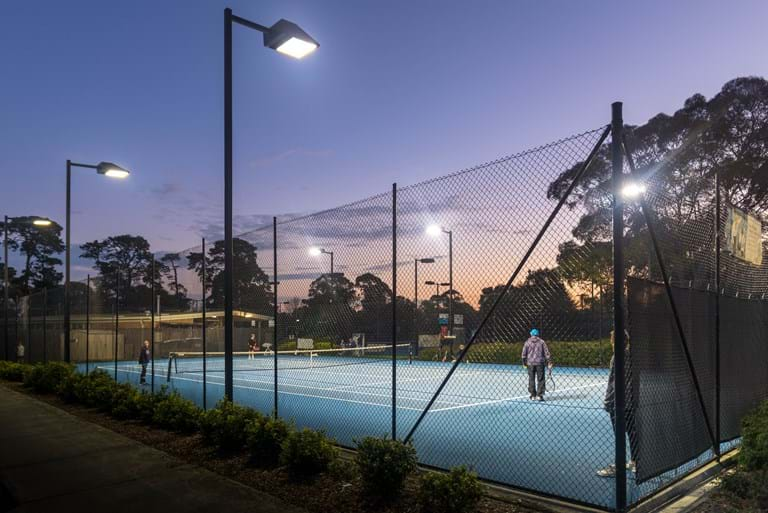 Located in the South Eastern suburbs of Melbourne, Tally Ho Tennis Club has been an established club for over 40 years with great facilities and a strong membership. In 2009, they added a single Championship Show court to their facility with a 1000W Metal Halide lighting system.

In 2016, we were approached to provide a state-of-the-art tennis court lighting system to compliment this court.
It had to be brighter, better and more energy efficient than their existing Metal Halide system in place, as this was their "Showcase" court for all to see.
They required a premium LED lighting system of excellent uniformity with increased lighting and minimum glare for optimum playing conditions.

We were able to increase their lighting levels by 60% and reduce their operating costs by 50%. Our fitting was a direct retrofit onto the existing poles, meaning, that there was no modifications required to the existing mounting brackets and poles to install our HAWKeye fixtures. This kept site labour costs down to a minimum and the changeover look of the fittings on the existing poles was excellent. The HAWKeye 500 LED lighting system was deemed a great addition to the facilities, by the club, coaches and it's members.
Point Malcolm - Council elects to use 'low level' HAWKeye LED lighting system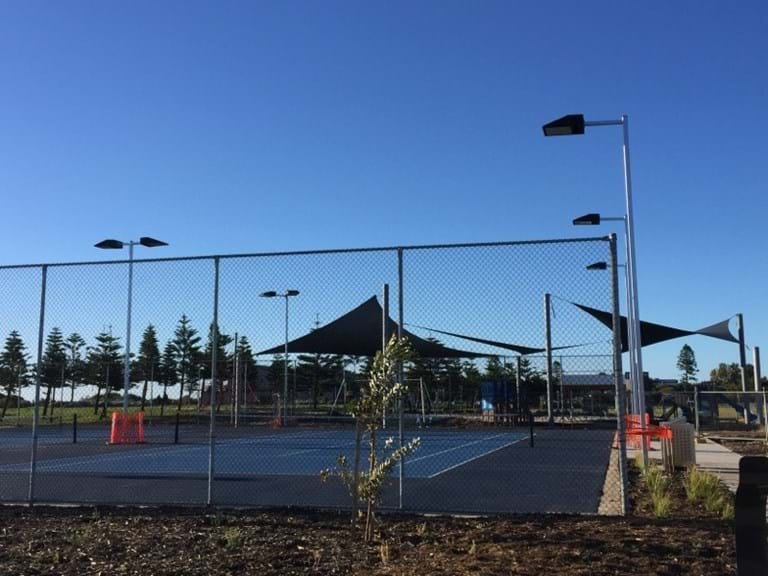 The Point Malcolm reserve is a pleasant recreational reserve located adjacent the oceanside Adelaide suburb of Semaphore. Part of the reserves recent major redevelopment program included the refurbishment of 2 tennis courts and a basketball court. The Charles Sturt council as part of this redevelopment called on contractors to provide pricing for a floodlighting system to the tennis courts using a specified traditional metal halide lighting system on 10m light towers.
After a review of the courts surrounding environment, it became apparent to D&A Lighting Systems that a tall tower lighting system would only be a detraction to the existing landscape with unwanted "spill lighting" from unsightly tall lighting towers. After councils careful tender evaluation process the Hawkeye low mount LED lighting system soon became the preferred option. The Point Malcolm reserve public tennis courts are now used by hundreds of people each week who enjoy all the benefits of brilliant even environmentally friendly LED lighting.
Yarraville Tennis Club - HAWKeye LED lighting system, quick and easy install.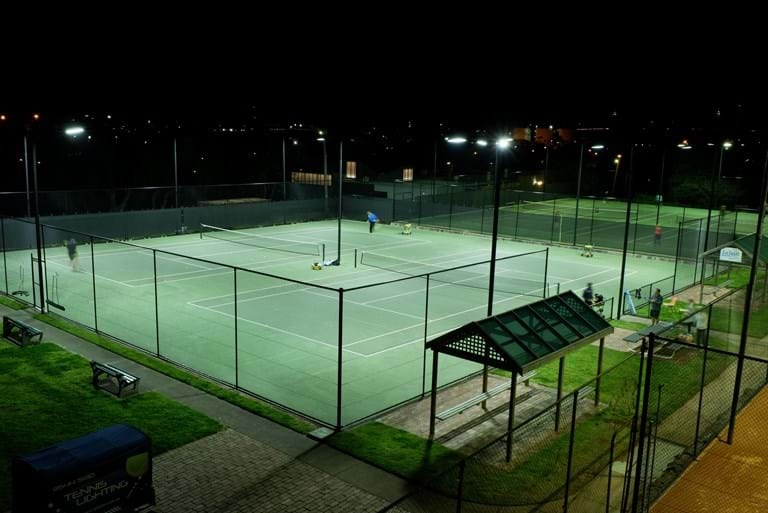 The Yarraville Tennis Club is located in Melbourne's west and is one of the regions busiest tennis establishments. With a thriving club membership, the committee wanted to maintain the clubs continued progression and improving its facilities by commencing the replacement of the energy sapping metal halide lights with the increasingly popular Hawkeye LED 500.
The first two courts on the clubs replacement program were commenced early morning and by the same evening members were enjoying competing under lighting levels 3 times as bright as the previous system.
The club can now enjoy a reduction in power consumption along with reduced maintenance costs and continued growth in membership all due to the clubs improved facilities.
Kings Park Tennis Club - Upgrade to the HAWKeye LED lighting system in stages
The Kings Park Tennis Club is located in Melbourne's South Eastern region in the suburb of East Bentleigh. For many years now, our partner, D&A Lighting Systems has been maintaining the clubs old metal Halide lighting on all of the clubs 8 red porous tennis courts.
During August 2017, the clubs committee decided to embark on a program to commence replacing their old 1000 watt metal halide tennis lights with the Hawkeye 500 watt LED System. Beginning with courts 7 and 8, the club now has 2 courts with lighting levels more than twice as bright as what had been achieved with the previous court 7 and 8 metal halide installation.
Kings Park Tennis Club can now look forward to a reduction in energy bills and maintenance costs whilst members enjoy all the benefits of the Hawkeye 500 LED lighting system.